The following is a sampling of my work. There's quite a mix of digital and print – you'll find articles, newsletters, and web content to name a few.  Please note: Ghostwriting & ghostblogging samples aren't included here due to confidentiality clauses.

White Papers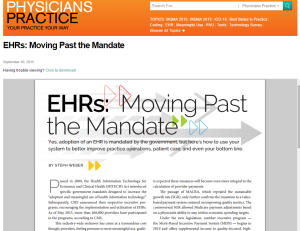 EHRs: Moving Past the Mandate – Physicians Practice/Pulse, Inc.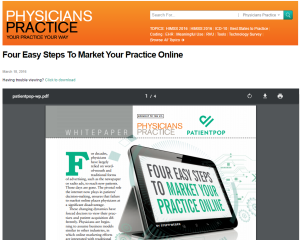 4 Easy Steps to Market Your Practice Online – Physicians Practice/PatientPop, Inc.
Articles – Custom & Trade Publications
Leading the Class Action Cavalry – Super Lawyers Indiana
Rheumatologist Advocacy Wins Reprieve on Viscosupplementation "Ban" – Rheumatology Network
     How One Mom Made $600 Selling Stuff in Facebook Garage Sale Groups –  The Penny Hoarder
     Dealing with a Patient's Disruptive Family – Physicians Practice
Getting Ready for the Next Generation of Content Consumers – EContent Magazine
Buck of the Irish – The Independent Restaurateur
Newsletters
An HHS Insider Speaks: HIPAA, Audits, and How to Protect Yourself – Logan Solutions
Fresh From the Coast– North Coast Organics
Web Copy/Copywriting
Plastic surgery billing web copy – Capture Billing & Consulting, Inc
ePatientFinder promotion web copy – Logan Solutions
Pricing & fees web copy – Capture Billing & Consulting, Inc
Blogging
One Writer's Fear-Busting Journey to $1500 a Month in Blogging Gigs – Make a Living Writing
4 Places to Find Food Allergy Support – Better Batter
New Statistics Signal It's Time to Rethink Employee Retention – Restaurant HR Group